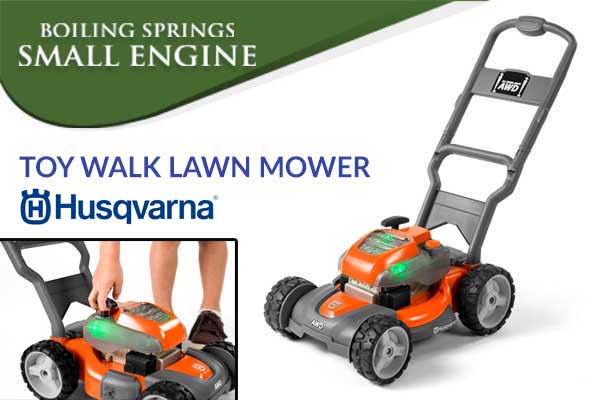 Summer is just around the corner! For many homeowners, this means it's time to start manicuring the lawn. There's nothing as unappealing as dying grass and wilted flowers, residing you of the summer that has passed. Sure, global warming has lead to an decrease in plant-life, but that's no reason to let your yard go to shame. Whether it's the aesthetic of the front yard, or the function of the back yard – it's time to get your property ready for the upcoming season. For many, yard work is an annoying part of the summer. You'd rather be spending time with the kids than working in the sun.
But, what if yard work could involve the little ones too?
There's nothing more important than getting to spend time with the people you love. Especially as the weather gets nicer. The hours you spend in the yard can now include the children. You won't have to worry about them running around under your feet either, because they will believe they are helping you do serious work, mowing the lawn. Of course, no one wants to put their children in harms way, so no one is allowing them to use the real Husqvarna lawn mower. But, there is another option! With the Husqvarna lawn mower for kids, lawn care can be fun for the whole family.
Yard work can now be exciting when you include the family!
With the kids tagging along, you lawn care experience can reach a whole new level! Instead of the boring chore you're used to it feeling like, lawn care can be exciting and even fun for you! Plus, it's a nice little boost for the kids to feel like they are assisting in such an important task. You remember being a kid. They love to help out and do whatever they can. Most of the time, they get in the way. But that's half the fun of having children, isn't it?
The design for the Husqvarna is nothing like the typical "toy lawn mower" either. The company has gone all-out to design a realistic lawn mower for your children to use outside. In fact, it's actually designed based on the Husqvarna HU800AWD model lawn mower. Of course, the design includes a light-up panel on the top, so, you can tell it's still aimed at children. Although, many of us adults like flashing lights and things that make noise as well. So, maybe we're all children at heart!
This is a fun design, perfect to get your children interested in yard work and helping out. A great way to make them feel involved, while being cost effective. It's no more expensive than any other toy, but the value of the time you get to spend together is priceless. Who knows? You might end up with an agriculturist as a result of this toy. That's not a bad thing. We definitely need more of them in the world! It's also a great way to get the kids to play outside!
If you're one of the people who enjoy lawn care, this is just a great way to get your kids interested too. Everyone wins.