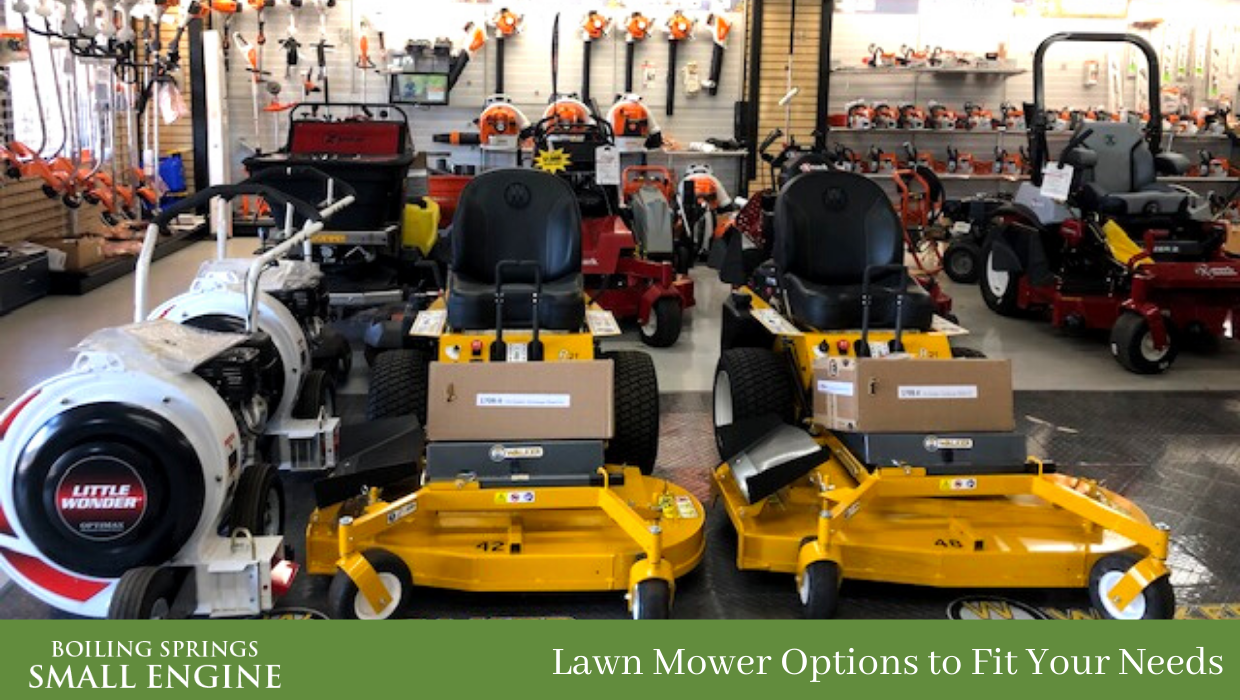 No two lawns are the same. So why would there be one lawn mower for everyone? Your lawn mower needs to match your wants and needs. Here are some helpful ways to figure out the best lawn mower options to fit your needs.
Size of Your Lawn
First, consider the size of your lawn. Do you have a smaller lawn in a neighborhood or a large yard in the country? How much of your space needs to be mowed? Here is an approximate breakdown for yard size to type of mower:
Terrain of Your Yard
Next, think about the terrain of your yard. Do you have hills, roots, or shrubbery? Mowers with high rear wheels can move around obstacles easier. Front-wheel drive is perfect for flat terrain while rear wheel drive works best on sloped landscape. All wheel drive can handle both types of lawn. If you have a lot of obstacles in your yard you may find a zero-turn mower is the easiest to maneuver. A robotic mower is known to handle slopes and narrow passages.
Mower Features
Thirdly, with so many mowers on the market selecting one can be difficult. Push mowers and self-propelled walk mowers offer side discharge, bagging, or mulching options. Choose a mower that best fits your needs or a mower that is able to do all three.
Some models of mowers have additional attachments that might be deemed useful such as aerators, dump carts, and snow blades. Robotic mowers cut a little grass at a time on a more frequent basis, causing the grass clippings to naturally fertilize the lawn.
Schedule
Lastly, take a look at your schedule. If you are the one who will be mowing look at what you would like. If you enjoy the exercise that comes with a push mower then that would be the one for you. If you have time to mow the lawn, you might enjoy a riding mower. If your lawn stripes are important maybe you should consider the zero-turn mower. After all there is a reason professionals trust Husqvarna Zero-Turn Mowers.
If you would like more information on our Husqvarna, Walker, eXmark, Honda, or Stihl power tools come in today or contact us online. One of our professionals is here to help.