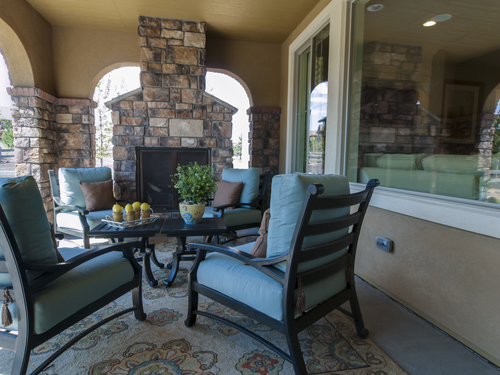 The summer is a great time to spice up your daily routine! The long warm summer days give you plenty of opportunity to try new tastes and enjoy every moment you have.
Change Your Routine
Simply changing one area of your daily routine can help re-energize you. Try bringing your breakfast or even just a cup of "joe" out onto your screened porch and sit back and relax. Practicing mindfulness outside might leave you more calm and prepare for the day ahead.
Spice Up Your Garden
Time to spice up your garden. I challenge you to plant a new fruit, veggie, or herb you have not planted before. This can cause you to open your eyes and try something new in your summer meals.
Host A Backyard Bash
Invite some people over and host a backyard bash! With some inexpensive touches you can create a beautiful and relaxing place to invite people over for a great summer dinner.
Summer Beverages
Remember how you were challenged to grow something new in your garden this year? Well try growing a garnish for one of your favorite summer beverages. Start with some simple mint or cilantro to avoid those short lived supermarket ingredients.
Shower Beneath The Stars
Ever wanted to shower beneath the stars? Adding a simple outdoor shower can turn this wish into reality. Find a water line and the rest is simple, just mounting the basic plumbing and shower fixtures.
Window Boxes
Adding some small window boxes can be a beautiful and refreshing way to add color around the house. A pint size box is enough to create a scenery without large gardening tools. Choosing summer blooming annuals like lavender or geranium can be a great choice.
Planting Beds Contain More Than Flowers
Your planting beds do not need to revolve around flowers. Choose a plant that is not known primarily for flowers but has interesting foliage. Choose foliage plants with a lot of color and texture contrast.
Enjoy A Summer Breeze
Enjoying the summer breeze is one of the best memories you will make. So what could be better than swinging in a hammock? Hang a hammock up between a couple of trees and enjoy either talking or reading outside during the summer.
Beat The Summer Heat
The summer heat is hard on more than just us. If you live in a hot environment consider setting up a pot full of water for the birds and other animals in your backyard. Keeping the pot full will be the only hard part. Enjoy sitting back and watching what comes by for a drink.
Splash Of Color
Bring everything together by adding a fun outdoor rug. You can either keep it a solid color or add a new pattern into the mix. Spicing up your outdoor living space and keeping it looking inviting to match your garden and host all your friends this summer.